Each Ketubah design on Artketubah.com can be customized and personalized to create a truly unique piece of art.  Peruse this page to learn more about adding:
Also learn about:
Most of the Extras described here can be purchased in step five of the Buying Guide (although shipping is added in step six).  Please contact us if you want an Extra that is not in the Buying Guide.  Also see How We Make the Ketubah of Your Dreams.
Quotes
Add a quote to your Ketubah design. We will send you a digital proof of your Ketubah image before printing, with your texts and your chosen quote, to ensure that you approve the placement and overall design.
Choose from our  quotes ($35):
To view our quotes, see Quotes for Ketubahs and Blessing Art. 
Custom Quote ($45)
You provide us with the English and Hebrew quote. Please email your quote to artketubah@gmail.com, fax to 877-801-4066, or call us at 888-843-3323.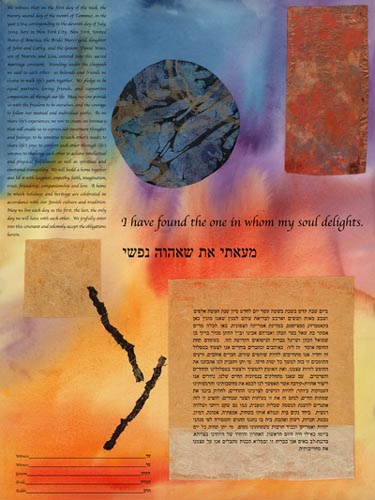 Hand-written Quotes and Embellishments
This ketubah print of After the Kiss was hand-worked with silver and gold embellishments.  The text and quote were hand-written and Nishima added silver and gold paint to the design.
Fancy Letters for Quotes:

Nishima created her own Calligraphy font in Hebrew and English using Chinese brush and ink. To create a custom design (your own creative combination of words and art), only $50 ($35 for the quote and $15 for the Calligraphy, includes a proof), so we can put together the letters and choose just the right colors and textures for the words.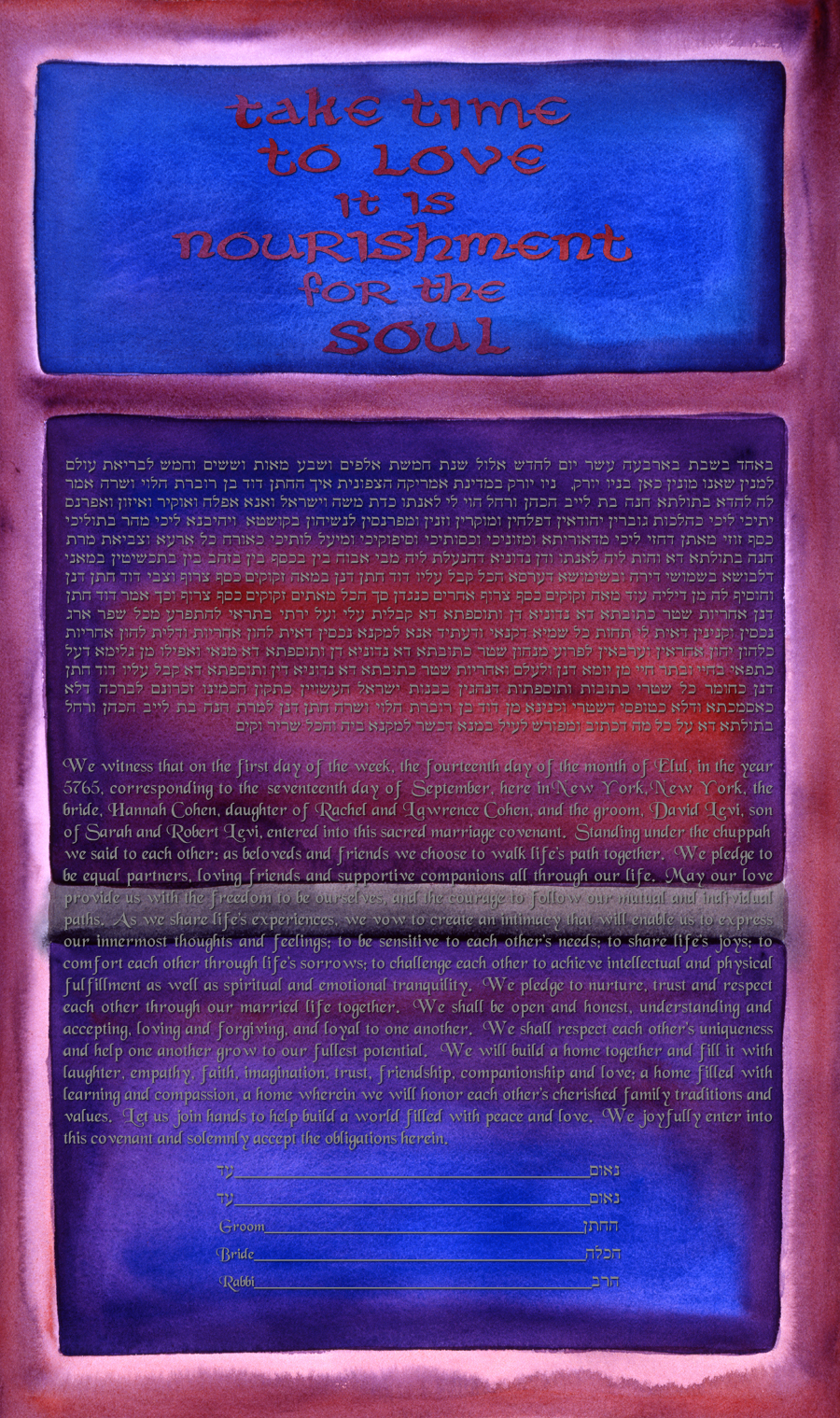 We are also developing some new products with Raised Letters. These letters are laser burned from thin birch plywood that has been hand-collaged with art papers. These can be added to works on canvas that we stretch for you (see below). Cost is $15 per word; allow several weeks for a custom order.  Please contact us to place your order.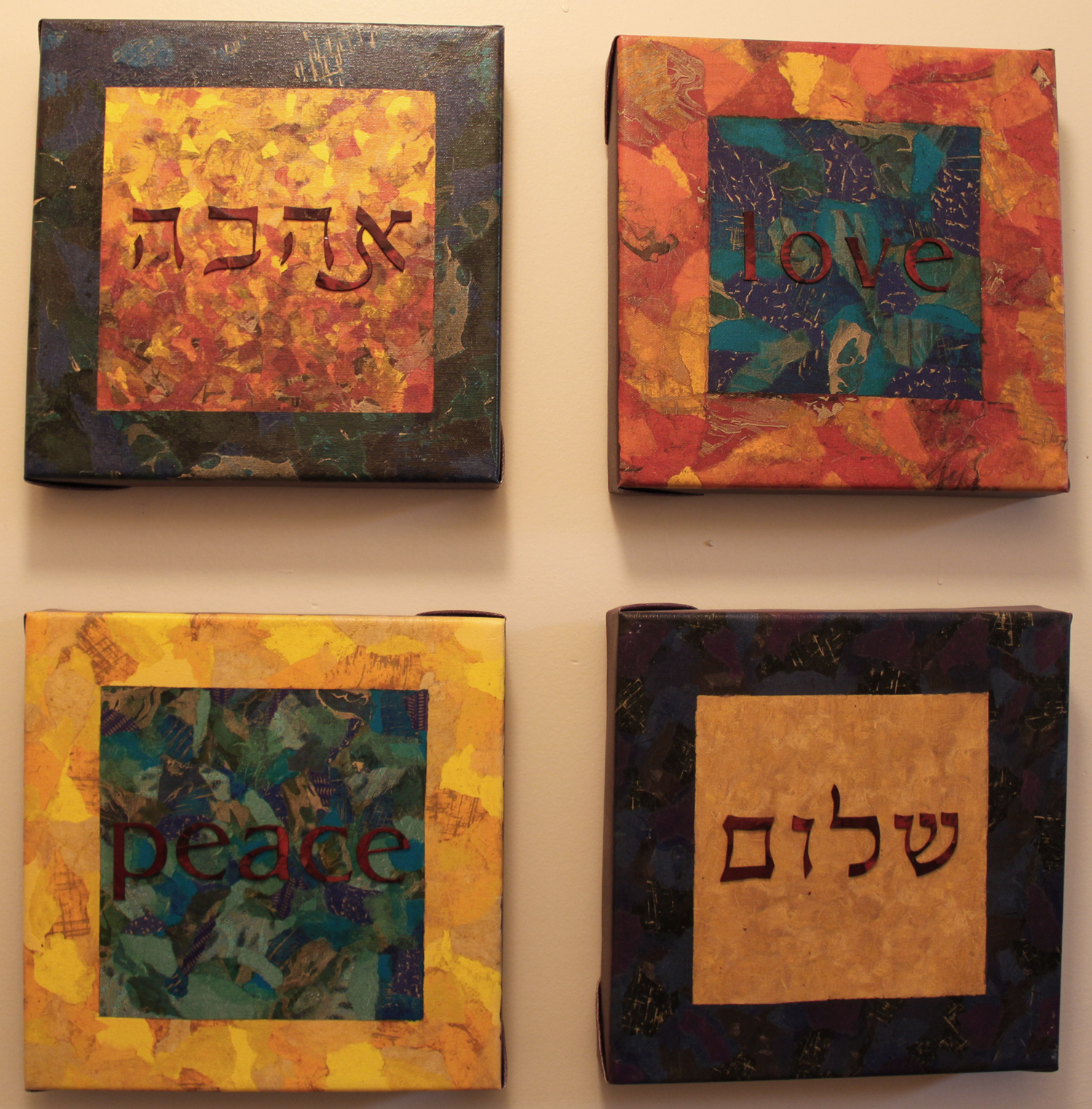 Family Tree
A wonderful way to honor, and preserve for future generations, your extended family, with their names in English and/or Hebrew.
This piece was handmade and cost $900 for the custom work.  The names are hand-cut.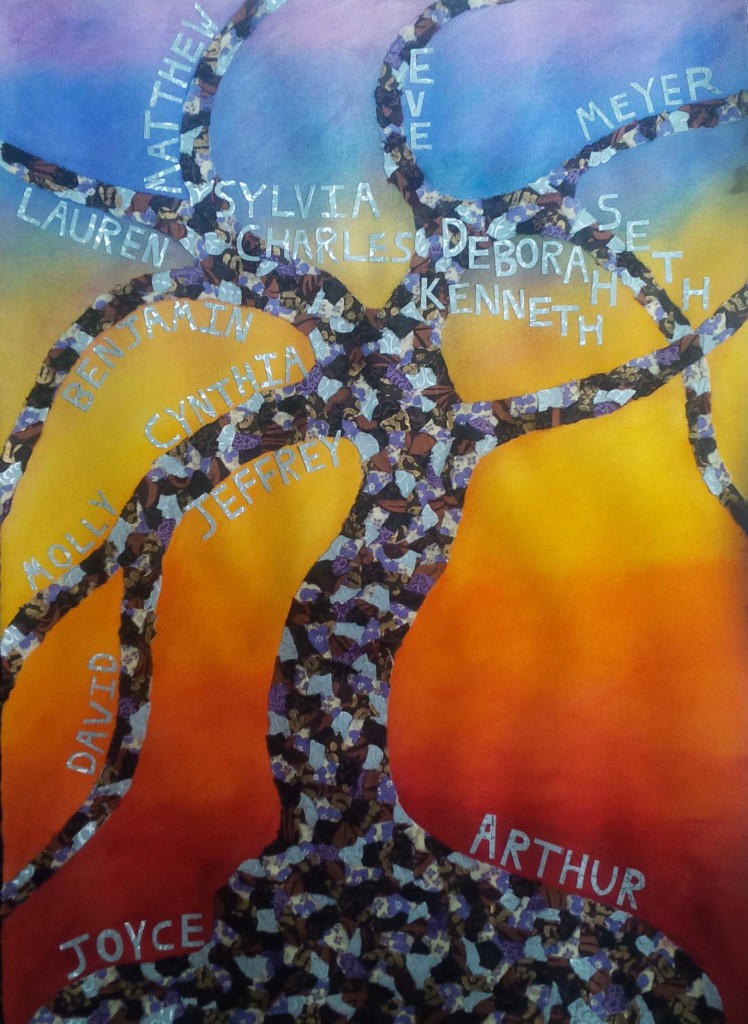 This piece is called Growing Together; it is found in the Seasons of Joy Ketubah gallery and costs about the same as a ketubah print. Choose custom quote under Extras in the Buying Guide.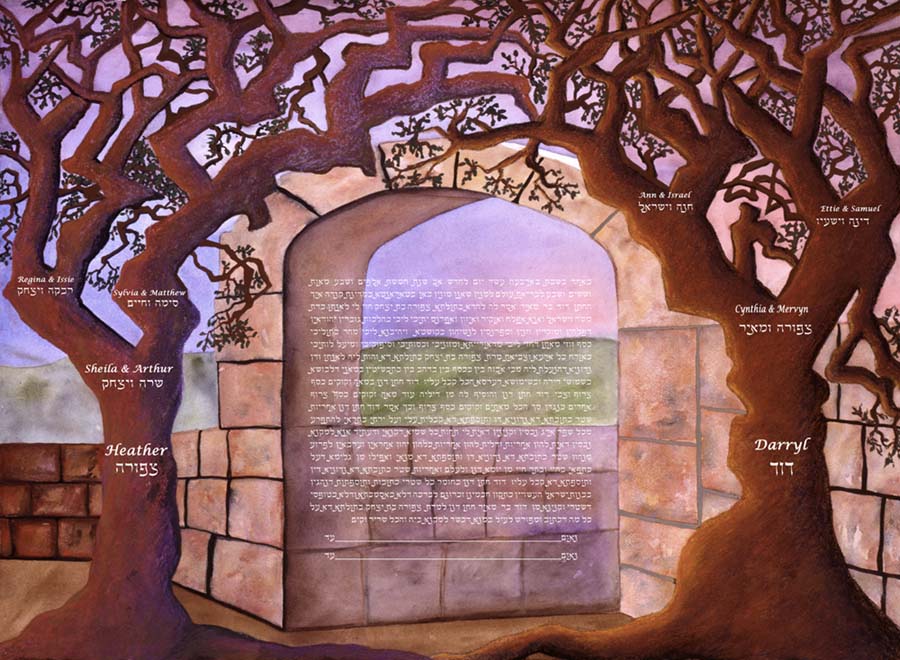 Canvas
All canvas pieces are sprayed with multiple layers of UV protection. Nishima likes canvas pieces because they can be displayed without glass, allowing a more direct experience with the art.
Print on canvas, rolled in tube, $50
Print on canvas, mounted on 1/2″ birch wood, $100
Print on canvas, mounted on 1/8″ birch wood, framing on sides, $150
Hand-made torn paper border, available when mounted on wood, add $100
1/8″ birch wood, framing on sides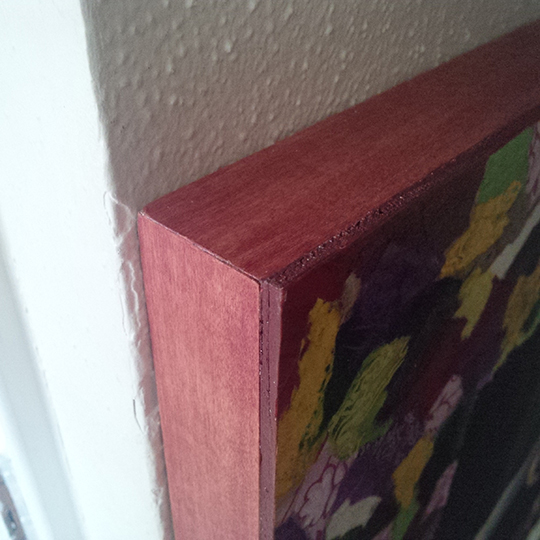 hand-made, torn paper border
Custom texts
Write your own texts for your Ketubah, in English and/or Hebrew and/or any other language.  Learn more about writing your own text.
Custom texts should be emailed to artketubah@gmail.com within the body of the email. Small changes to any texts are free.
English only, $35
Hebrew only, $125
English and Hebrew, $135
Hebrew translation of your English text, $1.25 per word (pay later)
Digital Proof
Order a digital proof of your ketubah image for $25 so you can proof the design that includes your texts before we print. Image will be sent by email as a .jpeg or a .gif after you approve your texts. If you have suggestions for adjusting the design, we are happy to work with you.  (This service is included when you order a quote.)
Rush Order
One week away or less, $50
One to three weeks away, $25
Please call us at 888-843-3323 to confirm order.
Samples
Order a sample of one or more ketubah designs for only $15 per sample. The first $15 will be deducted from your ketubah purchase. Your 8 x 10 sample will be printed on the same paper, with the same inks, as our full-sized ketubahs.
Reprints
If you need a new ketubah printed due to mistakes that were in the approved text proofs, or due to loss or damage, please cover our costs of $50. If we made a mistake, we will send you a new ketubah for free.
Shipping
UPS ground, $18 (this is the base price)
UPS 2nd day Air, $15 extra
Flat shipping delivers your ketubah in a plastic mylar sleeve with a cardboard backing, $35 extra
Overnight, $50 extra
International air, $70 extra