In my over 10 years of creating Ketubahs, I have had the privilege of working with many wonderful people. As an artist, I am always overjoyed if my work has a meaningful impact for someone. Below is some of the feedback that has been graciously sent to me. Thank you.
Susan and Jason

We want to thank you again for the beautiful ketubah you created for us. We really appreciate all the time and attention you gave us and your openness to our changes in the design and text. We thought you might enjoy these pictures from our wedding day and our very joyful signing of our ketubah!

Ellen and MJ

We love the ketubah! It's even more striking in person that it was on your website. The text placement, including the quote, is perfect. And we liked the vision statement so much we included it in the ceremony. Thank you so much for all you did to make our wedding as specials as it was. You were calm in the face of craziness. And handled everything perfectly even though it was a rush project. Including the pens in the box was especially thoughtful. We wish you a happy, healthy and peaceful New Year.

Meredith and Leora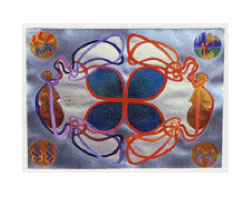 Dear Nishima, A wedding is made up of so many small details, and when it finally comes to the big day, all these details are seen and absorbed by the guests but perhaps not by the couple being married. The flowers wilt and die, the tables and chairs are folded, people leave and all that is left are wonderful memories. The only exception to this is our Ketubah. It was the most personal treasure we have from our wedding and of course the most sacred as well. As it hangs on our wall in our bedroom we are constantly reminded of the path and struggle we all went through together to try and create a document that would embody our beliefs, our individuality and our commitments to one another as lovers in marriage. Nishima you produced such an astonishing and breath-taking balance between art, tradition and our unique personalities and desires as a couple, that the end result is simply magical. Many of our guests told us how stretch they were by both the sentiment and the incredible artistic ingenuity. Thank you for your artistry and courage, as you embarked on a journey that must have been quite challenging. Please know that it was well work it.

Lisa and Brian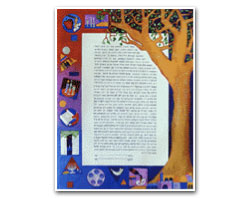 Nishima, We received the ketubah and it is absolutely beautiful!! You are extremely talented and were a pleasure to work with. We sincerely enjoyed creating this personal and beautiful piece of art with you. Even though we were half-way across the country, you made it so easy. We will think of you at the wedding when our beautiful ketubah is on display for our guests to see!! Thank you again!!

Allison
We received the ketubah yesterday and it's absolutely phenomenal! After all the time we spent picking out each image, the colors, the mood of the ketubah, it was wonderful to see it all come together– it's so much more than I even imagined! I really enjoyed the collaborative experience of building this together and would highly recommend your services to anyone! Again, thank you so much. This ketubah will be a reminder of our wedding and a beautiful statement of our commitment to each other that we'll always enjoy.

Rob and Caron
Caron and I want to thank you for everything. The Ketubah you did for us is absolutely incredible!! Thursday night before the wedding, we took it out of the box to show some close friends and relatives. Since this was the first time that we'd seen it (in full size and color), we were simply stunned!!! It was far more beautiful and meaningful than either of us had imagined!!! Then, at the Ketubah signing, more people, including our Rabbi, commented on how beautiful it was. It was really a special event. My dad's cousin, who witnessed the signing of his Ketubah 34 years ago, was present at the signing of ours. Again, we need to tell you that you've totally exceeded our ideas and managed to capture some very important symbols and ideas in our lives in a way we can display for all! We're totally blown away and will recommend you to anybody who ever needs a Ketubah!!!

Julie
Dear Nishima, wanted to let you know that we received the ketubah yesterday. It's so incredible. I keep dancing around the house. Thank you, thank you, so much!I t is so us! Love, Julie

Marrah
Dear Nishima: Just wanted to tell you that I LOVE the ketubah. It is so much more beautiful than I ever anticipated. Thank you for your time, effort, and kindness. Happy New Year!

Marla and Jeff
WE LOVE IT!!!!!!!! Thanks for doing such a wonderful job! We are just thrilled!

Daniel
Hi Nishima, we received the ketubah this Wednesday and it looks beautiful! We're so happy that we selected your artwork to be a part of our wedding ceremony and marriage. Warm wishes.

Courtney and Ariel
We received the ketubah and it is absolutely gorgeous!!! It's even more beautiful in person. Thank you so much for making this very special piece of art for us. We can't wait to display it and look at it everyday.

Kate
We just received the Ketubah today. It is beyond beautiful-thank you so much. We couldn't have imagined a more perfect finished result. The colors, textures, images, placement of symbols and whole piece are absolutely stunning. We want to keep looking at it, but decided to put it away until the wedding:)

Paul
It is so beautiful we are ecstatic. Thank you so much. Thanks so much for getting it to us so fast.